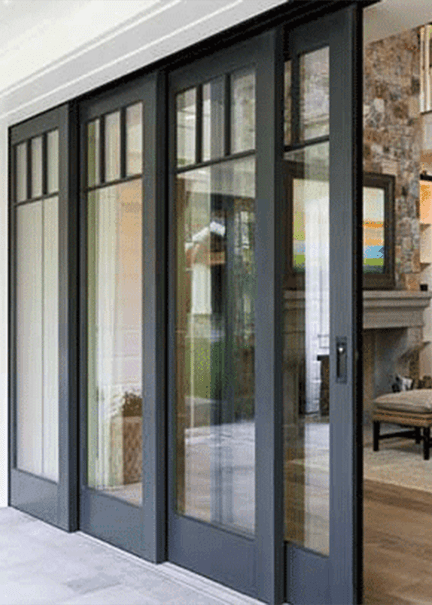 New Town Windows and Doors does Kelowna glass installation and repair. Not only are we highly trained renovation experts that install magnificent windows. We also repair these windows when cracks appear, and you don't know what to do. That's right, we fix windows as well as install new replacement windows. Aside from fixing your existing windows, we install a variety of glass products. These include wine rooms, glass shower doors, glass cabinets, and even commercial doors. This lets us stay relevant and provide a wider variety of products that our customers can benefit from. If you need some glass products, feel free to give us a call and we will see if we can help you or direct you to our sister company New Town Glass. We love installing all kinds of window and door products and that includes repairing damaged ones.
Glass windows lend houses exquisite visual appeal and value. A perfectly designed and fitted glass window complements your house's architectural style and aesthetics. And while you may think that they are essentially just installed to enhance the looks of your house, think again. Glass windows provide you strong protection from external and natural elements, insulation from extreme heat and cold, and energy efficiency as well as allow natural light into your home.
Quality Glass Installation Services in Kelowna
For any services involving glass installation in your home, you can fully trust New Town Windows and Doors. We are a Kelowna-based glass service provider that has been serving the glass needs of households and businesses in Kelowna and surrounding areas for the past more than 15 years.
Our service also covers Kelowna West, Summerland, Lake Country Penticton, and Vernon. We supply, install, repair, and replace glass products and structures in the home and office.
Glass windows are one of our fortes. We specialize in both new windows and window glass replacement. For either new installation or glass replacement, we can work with the same style as your existing windows. We can undertake glass window projects for single-hung, double-hung, casement, awning, picture, and horizontal slider windows. Window glass replacement is hassle-free and less expensive than if you are to install a brand new glass window. Glass replacement is all that's needed while original frames are retained.
We use only the highest quality glazing material in our windows and glass replacement job. They are tempered glass for your safety and strong protection, able to resist strong winds, rain, snow, and hail. Our licensed and fully insured window experts will ensure that your glass windows are installed to perfection. They have many years of experience with installing windows and have worked with hundreds of window projects of all sizes, complexity, and levels of challenge to execute. No glass window or window glass replacement job is ever difficult for us.
Our Professional Approach to Glass Installation
Customers and their needs are our priority. In all our projects, we make it a point to involve them every step of the way. When you choose us to work on your glass projects, we'll try to know your real needs and requirements, which should include your preferred style and design for the glass products we shall install, your budget, and your timeline.
We guide you in the intelligent selection of glass products. If it is windows you want us to install, we'll present to you the options you have for the windows' type, style, design, frame materials, and other features including their costs. We then install the window you chose, ensuring that it is stable and robust while fulfilling your requirements for safety, protection, functionality, energy efficiency, and visual appeal.
In a glass replacement or repair job, we work on them even if they have been originally installed by other service providers or you are not a former client of ours.
Involving you every step of the way in our glass project doesn't mean taking your time and disrupting your normal household activity or business operation. It is updating you on important project developments and making sure everything's following your expectations and that you don't get surprises. We work systematically and seamlessly.
Before we turn over the installed windows to you and finally conclude the project, you will have the opportunity to test that the structure is functioning well and meets all the specifications and requirements you set at the start of the project. We clean up the work area and render the place suitable for use soon after our turnover.
Why Choose Us For Kelowna Glass Repair and Installation?
We are glass experts. For over 15 years, glass has been our strength. We deal with all projects involving glass and have the perfect solution for all your glass issues. You can trust that our glass professionals can intelligently guide you to achieve the best results in your project be it windows, doors, or a commercial building.
We are your one-stop shop for all your glass needs. We offer a comprehensive range of products and services that include design to supply to the installation of glass products.
We have technically competent staff. Our experts aren't just experienced; they are well trained in advanced technology and abreast with the latest trend in glass handling and processing.
We boast of quality workmanship. Expert workmanship that could only come from seasoned glass experts is our hallmark. We offer a 15-year labor warranty and lifetime window warranties.
We offer high-reliability glass and materials. We believe that the quality and performance level of our products can only be as high as the materials used for them. That is why we use only the best quality glass and materials for all our products.
We are known for a positive customer experience. Customers are our primary consideration in our business. We ensure that your needs are addressed and you are involved every step of the way so your requirements are met.
We offer the best value service. Our competitive rates and the high quality of our work make us one of the most cost-competitive glass services companies in the Okanagan.
We Provide Other Window and Door Services throughout Kelowna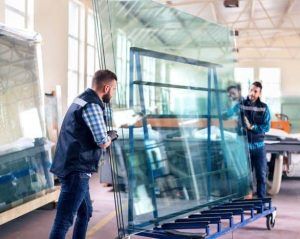 We specialize in glass products and the biggest parts of our business are on windows and doors. The modern glass windows and doors we supply are sourced from our supplier partners that are leading manufacturers of these glass products. We custom-design and fabricate windows and doors that meet your unique requirements. Installation, repair, and replacement round up our window and door services.
We can install windows of all types including casement windows, awning windows, horizontal slider windows, double-hung windows, single-hung, bow windows, bay windows, etc. Our glass windows are also available in various frame materials such as wood, vinyl, fiberglass, and aluminum.
For all your door needs, you can choose from our wide range of doors for different purposes – interior doors, entry doors, bi-fold doors, French doors, patio doors, etc. Like windows, our doors are available in different materials for your particular requirements including wood, PVC, fiberglass, aluminum, steel, and glass.
Call Us Now and Get a Free Estimate for Your Glass Installation
If you need the services of professional Kelowna glass experts for your next glass projects, call New Town Windows and Doors now. By making us your partners in your glass installation for your home improvement, you get the best benefits from your glass investments. We provide free consultation and estimates.
Get Free Estimate for your project